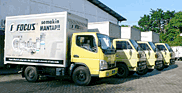 DOMESTIC MARKETS
Focus Group is committed in quality products, on-time delivery, and best customer service. The company has well established distribution networks locally and internationally. In domestic market, FOCUS lighting, electrical cable and wire product lines are distributed through major wholesalers, independent distributors, chain stores, etc.
These are quality products manufactured by Focus Group:
If you are interested to be a wholesaler or distributor, please contact us directly.


INTERNATIONAL MARKETS
All FOCUS manufacturing facilities are certified with Quality Assurance ISO 9001:2000 system. The company has full commitment in quality and customer service world wide. FOCUS products comply with world-class product safety standards assessed by IEC (International Electrotechnical Commission). Please contact our international sales department for more information.

PROJECTS
FOCUS Group supports many kinds of developer projects, including constructions for new apartments, new condos, new buildings, government projects, schools, campuses, and many other development projects.





PRIVATE LABEL
FOCUS Group also offer private labeling and custom-made manufacturing for most of its lighting, electrical cable and wire products, and lighting components per customer request. With the company's state of the art printing and packaging facilities, customers can get fully integrated solutions from initial design, packaging, and carton creation/printing to productions of finished-goods. Please contact our sales department for any inquires.